What Are the Best Bamboo Sheets You Can Buy?
In this Buyer's Guide to the best bamboo sheets, we have taken an in-depth looks at the many bamboo sheets that are available on the market and provided reviews for you. 
In recent years, bamboo fabrics have been taking the bedding market by storm. Their popularity is due to how soft and luxurious bamboo sheets feel, as well as the eco-friendly credentials of bamboo plants. Getting a good night's sleep is important to all of us and part of creating a relaxing and healthy sleeping environment is choosing the bed linen that's best for you.
Should you ditch the cotton and switch to bamboo? In our buyer's guide to the best bamboo sheets, we'll cover all you need to know about how to choose the best bamboo sheets for both you and the environment.
We've then come up with the best of the best so you don't have to sort it all out.  We want to make the buying process easy, so you end up purchasing the bamboo sheet that fits your lifestyle and priorities.
Best Bamboo Sheets Reviews
Top 10 Best Bamboo Sheets
Our reviews revealed these 10 best bamboo sheets for the money.
BEST OVERALL: Cariloha Classic Bamboo Sheets
Cariloha Resort Sheets of Bamboo
Zenlusso Luxury Sheet Set
Ettitude Bamboo Lyocell Sheets
Ettitude Bamboo Twill Sheets
10 Most Luxurious Bamboo Sheets

10 Best Budget Choice Bamboo Sheets

10 Best Overall Bamboo Sheets


Top 10 Luxury Choice Bamboo Sheets
For when softness, and feel are top priority go with the luxury choice.
Top Luxury Choice: Cariloha Resort Bamboo Sheets
Cariloha Classic Sheets Made from Bamboo
Bed Voyage Sheets from Bamboo
Zenlusso Luxury Sheet Set
Ettitude Bamboo Twill Sheets
10 Most Luxurious Bamboo Sheets

10 Best Budget Choice Bamboo Sheets

10 Best Overall Bamboo Sheets


Top 10 Budget Bamboo Sheets
For affordability, the top 10 best selling bamboo sheets under $100.
Top Budget Choice: PURE BAMBOO Bed Sheets
Zen Bambo Microfiber Bamboo Blend
Diamond Bamboo Microfiber Bamboo Blend
10 Most Luxurious Bamboo Sheets

10 Best Budget Choice Bamboo Sheets

10 Best Overall Bamboo Sheets


In-Depth Reviews: Best Bamboo Sheets
Cariloha Classic Sheets Made from Bamboo
Cariloha Classic bamboo bed sheets are an excellent all-rounder. Made from 100% viscose from bamboo, they are luxuriously soft, have excellent thermal-regulating properties and are manufactured using an eco-friendly process. The Classic range features a durable twill weave with extra deep pockets. There are a few reports from people who've owned these sheets that pilling has occurred, so it's important to care for these sheets as per the instructions. These sheets come with a one year warranty and an excellent 30 day return policy.
Bed Voyage Sheets Made from Bamboo
Bed Voyage bamboo sheets are made from 100% bamboo viscose using a tight twill-weave for softness and durability. They are silky-soft, hypoallergenic and sleep cool. Made from certified organic bamboo, these sheets also have the Oeko-Tex Made In Green Certification which verifies that a product has been tested for harmful substances and also that the product has been manufactured using sustainable processes under environmentally and socially responsible working conditions. We love that you can test-drive these sheets for 90 days and if you don't love them you can send them back for a full refund.
Cariloha's Resort bamboo sheets are made with a sateen finish, making them even softer and smoother than the Cariloha Classic sheets. With a 400 thread count, these are the highest thread count bamboo sheets we have found and surpass the softness of a 1000 thread count Egyptian cotton. They are available in four sizes (Queen, King, California King, and Split King) with the same extra-deep pockets as the Classic range.
Zenlusso Luxury Sheet Set
Zenlusso's sheet sets are made from an ultra-soft 100% bamboo viscose. The sheets are spun from premium, long-staple, single-ply yarns for maximum softness, quality, and durability. We love that they use a USDA certified organic bamboo as the raw material and that the sheets are Oeko-Tex certified. Zenlusso also uses a BSCI Audited manufacturing facility which ensures fair employee wages and working conditions. The sheet sets come with a reusable drawstring bag and will fit a mattress up to 16" depth. They come in standard sizes and unlike some other bamboo sheets, these are very resistant to pilling.
Made from 100% bamboo-derived rayon, Malouf bamboo sheets are supremely soft and silky. They are hypoallergenic, naturally resistant to odors and come in seven sizes. The Malouf Universal Fit® design is sewn with deep pockets and an ultra-thick, full-length elastic that produces a secure, smooth fit, on mattress depths from 6" – 22". The sheets are easy to put on and won't slip off. Malouf is a certified B Corporation, a third-party standard that requires companies to meet social sustainability and environmental performance standards.
Ettitude Bamboo Lyocell Sheets
Ettitude's innovative CleanBamboo™ is made with lyocell from 100% organic bamboo. This combination of sustainable materials, an eco-friendly manufacturing process, and a high-quality product make these bamboo sheets one of our top choices. The sheets have a luxurious, silky smooth texture and are extremely breathable with excellent temperature-regulating qualities. We love that Ettitude is all about sustainability. Their CleanBamboo™ fabric is made using bamboo from FSC certified forests, using a water-saving, chemical-free process that's kind to the environment. And their manufacturing partner is certified by Worldwide Responsible Accredited Production (WRAP) to ensure socially responsible manufacturing. With sustainability in mind, these sheets come with a reusable drawstring bag, made from left-over fabric.
The bamboo sheets made by PURE BAMBOO offer great value for money. They are made from silky-soft 100% bamboo viscose and are Oeko-Tex Standard 100 certified, meaning they pass the highest criterion of testing for harmful chemicals. They come in 6 standard sizes (Twin, Full, Queen, King, Californian King, and Split King) and feature extra-deep pockets with full elastic for a snug and reliable fit on mattresses up to 16". They are currently available in 11 different colors plus a striped option. The flat sheet and pillowcases feature double-stitched seams for enhanced durability and minimal fraying. Pure Bamboo offers a full refund in case you're not 100% satisfied with your purchase.
BAMPURE bamboo bed sheets are made from an Oeko-Tex certified 100% bamboo-derived viscose. They are temperature regulating, keeping you cool in summer and cozy in winter. With a 300 thread count and sateen weave, these sheets are luxuriously soft and silky as well as being super breathable and odor resistant. The fitted bed sheet is fully elasticized with upgraded elastic at the bottom, ensuring no rips and a snug fit on deep mattresses up to 16" thick.
Ettitude Bamboo Twill Sheets
Ettitude's bamboo twill sheets also get our vote as one of the top bamboo sheets available to buy. They are made with the same eco-friendly bamboo lyocell yarn but this time it is woven using the diagonal twill weave which provides extra durability whilst maintaining the softness and breathability The bamboo lyocell fabric naturally wicks away moisture to keep you cool and comfortable. It's also hypoallergenic, antimicrobial and odor absorbing for a clean and healthy sleep.
DTY Bedding offers luxuriously soft and silky bamboo sheets with excellent temperature and moisture management properties. These sheets are produced using a closed-loop process to ensure low environmental impact and are Oeko-Tex certified. They come with a 90 day return policy and an excellent Lifetime Limited Warranty for quality and craftsmanship. The sheets come in standard bedding sizes and are available in a great range of colors.
10 Most Luxurious Bamboo Sheets

10 Best Budget Choice Bamboo Sheets

10 Best Overall Bamboo Sheets


Guide to Buying Bamboo Sheets
Qualities of Bamboo Fabric
So what makes bamboo fabric so exceptional?
First off, bamboo fabric is incredibly soft and silky. It's been compared to some of the world's most luxurious fabrics, including silk and cashmere. 100% bamboo-derived rayon is a wonderful, lightweight, breathable fabric that's perfect for bed sheets.
It's breathability and moisture-wicking properties help to provide a healthy, cool and dry sleeping environment. It's hypoallergenic too, so it's great for sensitive skin.
10 Most Luxurious Bamboo Sheets

10 Best Budget Choice Bamboo Sheets

10 Best Overall Bamboo Sheets


Are Bamboo Sheets Better Than Cotton?
Are bamboo sheets better than cotton or are they just trendier? If you've only used cotton sheets up until now, you might be wondering what all the fuss is about. Let's compare bamboo and cotton to help you decide whether to make the switch.
Bamboo Fabric vs Cotton Fabric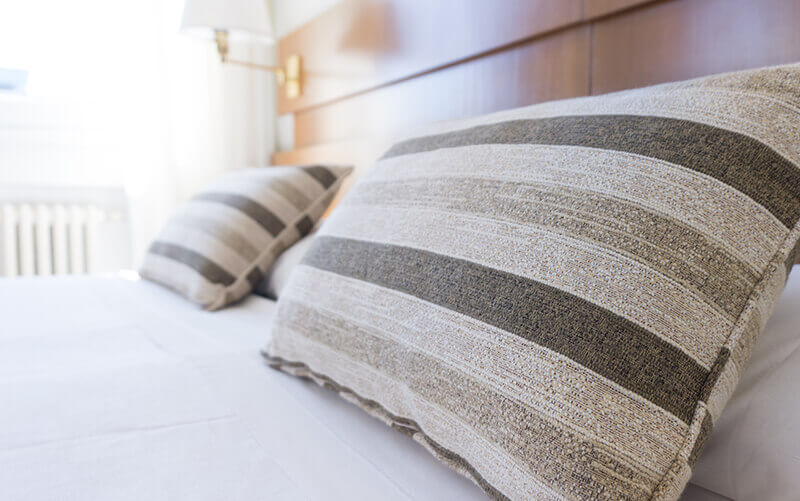 Fabric made from bamboo is silky-smooth, much smoother than your average cotton bed sheet. There is some seriously soft cotton out there, but you would need to buy a really good quality, high thread-count cotton to match the smoothness of bamboo.
Bamboo sheets are also cooler and more breathable than cotton, with a better moisture-wicking capacity. In terms of comfort, there are some clear reasons to opt for bamboo over cotton.
Many people prefer the smoothness of bamboo and its temperature-regulating qualities are hard to beat.
Bamboo sheets are durable and should last for many years if cared for properly. In high-quality bamboo sheets, the long, rayon fibers are often stretched along the length of the sheet which gives a much stronger material, compared to fabrics where shorter fibers need to be interwoven together. However, they do require more delicate care.

Whereas, cotton sheets can be washed and dried using hot temperatures, bamboo needs to be handled more gently and should always be washed and dried using cooler temperatures.

On the plus side, it's not difficult to care for bamboo if you know how, and those lower temperatures are better for the environment. For the full details on how to care for your bamboo, check out our article on how to wash bamboo sheets.
Bamboo is extremely fast-growing, needs no pesticides and very little water. This places bamboo way ahead of conventionally grown cotton in terms of sustainability.
However, things get a less clear when we look at the manufacturing processes involved in turning bamboo fiber into a fabric. The majority of bamboo fabric on the market is bamboo rayon, produced using the conventional viscose process.
The viscose-making process is chemically intensive and raises concerns about pollution as well as the safety and welfare of workers. It is possible to produce bamboo rayon in an environmentally friendly way.
The lyocell process is one method which has a much lower environmental impact. Here, the majority of the chemicals are captured and reused, producing much less hazardous waste.
So, is bamboo more eco-friendly than cotton? Due to it's eco-credentials as a crop, bamboo certainly can be more eco-friendly than cotton with regards to sustainability.  The most sustainable sheets incorporate the whole process in their committment to sustainability.
Bamboo sheets, on the whole tend to be comparable in price to high quality cotton, but more expensive than your average cotton sheets. But bear in mind the durability of bamboo.
Because of the way bamboo fabric is made, it is more resistant to tearing and pilling than cotton and a good quality set of bamboo sheets should last a long time.
Live a little, since we spend so much of our lives in bed.  Splurging  on the bamboo bed sheets will be a worthwhile investment in your sleeping environment.
10 Most Luxurious Bamboo Sheets

10 Best Budget Choice Bamboo Sheets

10 Best Overall Bamboo Sheets


The Different Types of Sheets Made from Bamboo
There are several different ways that bamboo can be made into fabric. For all of them, bamboo is the raw material, but the way that the bamboo is processed results in different types of fabric, each with their own unique properties.
(1) Rayon Derived from Bamboo
The vast majority of bamboo sheets on the market are made of bamboo rayon. Rayon is the general name for fabrics that are made from regenerated cellulose fibers.
To make rayon, the cellulose within plant fibers is extracted, dissolved and realigned to make a new fiber. There are quite a lot of different processes that are used for rayon manufacturing, and they all vary with regards to their overall environmental impact.
While some forms of rayon production are chemically-intensive, it might be reassuring to know that the chemical residue remains in the waste product, not on the material. While this isn't good news in terms of environmental impact, it does make the fabric free of chemicals and therefore safe to use.
Rayon from bamboo can also receive Oeko-Tex certification, guaranteeing that the final product has been tested and found to be free of harmful chemicals.
The majority of the bamboo fabric produced world-wide is conventional viscose rayon made from bamboo. The standard viscose-making process is a lengthy one, and one that is chemically intensive. It produces a fabric that is incredibly soft and durable and in much demand for bedding and clothing products. However, its heavy use of harsh chemicals raises concerns about its environmental impact.
The lyocell process is slightly different from the process used for making viscose. It uses a different, non-toxic solvent that can be filtered and re-used in a closed-loop system, so it is much better for the environment.
It shares the same soft feel as viscose and has an even greater ability to absorb water. These qualities, combined with its lower environmental footprint, makes lyocell a great, sustainable fabric choice. Unfortunately, because the lyocell process is more expensive, only a few brands are currently making bamboo fabric in this way.
Bamboo rayon is sometimes blended with cotton to produce a mixed fabric bed sheet. A bamboo/cotton blend produces a strong, soft fabric although some of the unique properties of a 100% bamboo-derived rayon sheet will be lost. A cotton blend is superior to a blend with microfiber, which should be avoided. But overall bamboo cotton blends are not that soft, nor is blends with microfiber.
The manufacturing process used to produce bamboo linen is used to produce regular linen as well. It's a mechanical as opposed to a chemical process, producing a material that preserves the natural qualities of the bamboo plant. Bamboo linen is a sustainable fabric, can be certified organic and sleeps very coolly. However, it has a slightly coarse feel, similar to the linen made from flax and hemp and therefore it's not as popular for making bed sheets as silky-smooth bamboo rayon.
10 Most Luxurious Bamboo Sheets

10 Best Budget Choice Bamboo Sheets

10 Best Overall Bamboo Sheets


What to Look for When Buying Sheets Made From Bamboo
Ready to give bamboo sheets a go?
Here are our top tips on what to look out for so that you can sleep easy knowing you've chosen the best bamboo sheets for both you and the planet.
Given the different types of bamboo fabric out there, it's important to always check the label and make sure you know what type of fabric you are buying.

There's been a lot of consumer confusion about bamboo fabrics because some manufacturers label their products as "100% bamboo fiber", without specifying the type of bamboo fabric.

To protect consumers, the law in the US requires manufacturers to label their products as "rayon" or "rayon made from bamboo" unless they are bamboo linen made directly from bamboo fibers, and in this case, they should be labeled "mechanically processed bamboo".

So always look at the label to see what you are buying.
What manufacturers actually mean when they state "100%" bamboo is that the material is made from 100% bamboo-derived rayon, and not blended with another fabric like cotton or microfiber.

Bamboo blends are common but are not recommended. If the sheets are blended with polyester or microfiber, they won't perform nearly as well. Microfiber blends don't breathe at all and should be avoided.

A blend with natural cotton produces a strong fabric but some of the unique qualities of a 100% bamboo rayon sheet will still be lost, most particularly the softness.
The thread count refers to the number of threads woven together per square inch of fabric. We're all familiar with the idea that the higher the thread count, the better quality the material.

While this is true with cotton, it doesn't apply to bamboo rayon. This is because bamboo rayon is woven from the long, continuous fibers, produced during the viscose or lyocell process, whereas cotton fibers are a lot shorter.

Thread counts for bamboo sheets are usually around 250-350. However because a 300 thread count bamboo sheet feels a lot like a 1000 thread count cotton sheet, you don't need to get hung up on the thread count when it comes to bamboo bedding.
The weave of the fabric affects how it looks and feels as well as how strong it is. Percale, sateen and bamboo twill, are the three common types of weave used to produce bamboo fabric and each provides a different texture.

● Percale: The percale weave is a simple one over, one under pattern. It produces a light-weight sheet with a crispy feel and great fabric strength.

● Sateen: The sateen weave can be a two, three or four over and one under pattern. It produces a smooth, higher thread-count bedding with a thick, close texture and luminous sheen. However, it is a bit more delicate than twill weave.

● Twill: The twill weave is characterized by a diagonal ribbing. It is short, tight and very fine. Although it's not as soft as sateen, bamboo twill is still much softer than cotton or a bamboo/cotton blend sheet. Bamboo sheets with the twill-weave are exceptionally durable and are a great all-round choice.
As with any bed sheet, bamboo sheets come in common sizes (Twin, Full/Double, Queen, King, and Californian King), so make sure that you select the right size for your bed. If you have an extra deep mattress, make sure that the sheets you are purchasing are extra deep. If in doubt, contact the manufacturer for advice on sizing.

It's important to note that bamboo sheets will shrink when they are first washed and are generally manufactured over-size to compensate for this. That's why you need to wash your sheets before first use.
As the name implies, a sleep trial lets customers try out the sheets for a given length of time and if you're not happy with the sheet's performance, you can return the sheet for a full refund, before the trial expires.

Sleep trials are pretty rare for sheets though because sheets that have been used and returned cannot then be resold for hygiene reasons. If available, they'll be detailed alongside the return policy so always read the small print!
Always choose a retailer that provides a warranty, as an assurance of the quality of their products. Warranties apply to defects in workmanship, such as hems unraveling and seams coming apart.

A return policy indicates if and how customers may return products after purchasing. Most companies will only accept returns for sheets that are unused and unopened, within a specified time period. Again, always check the details.
It's always a good idea to check the opinions of others who have bought and used a particular product.

Quite often, reviews are based on the initial feedback a customer has for a product but have a look also for reviews that have been written by customers who have been using the product for a longer time period.

This will give you an insight into the product's durability and ultimate value.
10 Most Luxurious Bamboo Sheets

10 Best Budget Choice Bamboo Sheets

10 Best Overall Bamboo Sheets


Are Sheets from Bamboo Eco-Friendly?
There are many things to love about bamboo fiber but not all bamboo fabrics are created equal and it's important to look at the different production processes involved in order to understand where bamboo lies on the sustainability scale.
If you're looking for healthy, eco-friendly sheets for your bed, then the best bamboo sheets are an Oeko-Tex certified, bamboo lyocell.
If you're buying bamboo viscose and not lyocell, then do check that the company has a strict effluent treatment protocol in place, so that they are disposing of waste responsibly and reducing their impact on the environment.
10 Most Luxurious Bamboo Sheets

10 Best Budget Choice Bamboo Sheets

10 Best Overall Bamboo Sheets


What Makes Bamboo Exceptional

As a crop, bamboo is a great choice for the environment. It has a fascinating history and a multitude of uses. Bamboo plants:
Consume very little water
Produce more oxygen than other plants and absorb more CO2
One of the fastest growing plants on the planet

Please note: The products we recommend are real recommendations, but the links to Amazon are affiliate links where we may earn a small commission. This helps cover the costs of running Positively Sustainable. It does not affect your price. Thanks for your support!