Spinach Parmesan Dip
This spinach parmesan dip recipe will be a winner at all the potlucks and dinner parties that you throw and attend.
First served at a grad school potluck this creamy spinach parmesan dip is legendary among students and faculty and has gained has five star reviews.  It's great as an appetizer and a winner among friends.
Expect to share this recipe when serving, since this hot dish melts in your mouth and its creamy smooth texture and salty-briny goodness will keep you coming back.  Rarely does not someone rave about this delicious dip.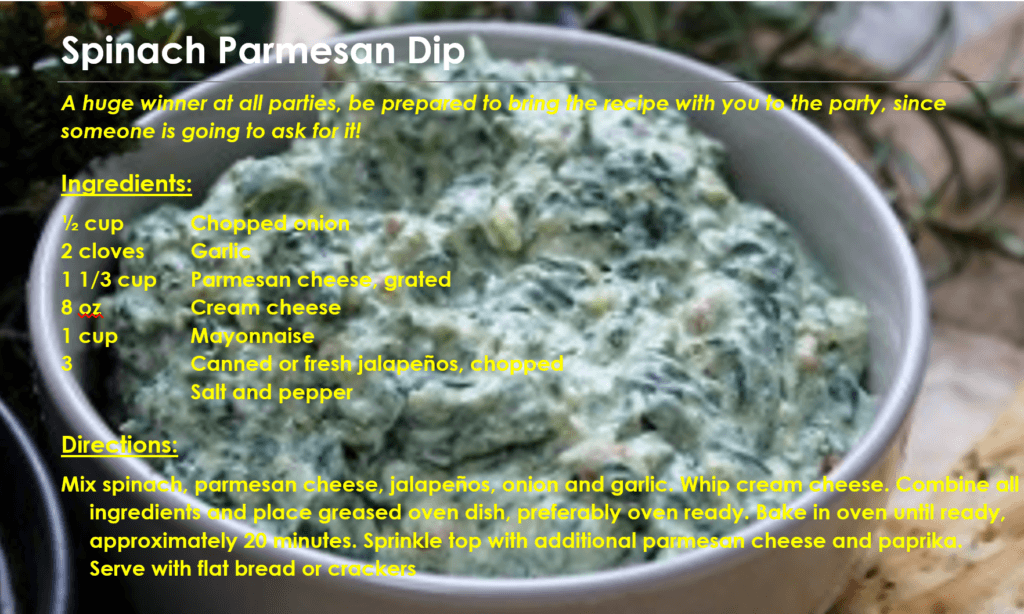 You must try to believe!
Ingredients for Parmesan Spinach Dip
½ cup               Chopped onion
2 cloves            Garlic
1 1/3 cup          Parmesan cheese, grated
8 oz                   Cream cheese
1 cup                 Mayonnaise
3                        Canned or fresh jalapeños, chopped
Salt and pepper
Fresh or frozen spinach can be used. Canned or fresh hot chilies do fine too.  Pickled jalapenos are one of the favorites.  If spiciness is not your thing, then leave the hot chilis out.
Direction to Make Parmesan Spinach Dip
1.    Mix spinach, parmesan cheese, jalapeños, onion and garlic in a bowl.
2.    Whip cream cheese separately, or ensure that it is soft enough to mix well with the other ingredients.
3.    Combine all ingredients for the parmesan spinach dip and place greased oven dish, preferably oven ready.  Cover while baking until the last 5 minutes.  Sides should be bubbly when ready.
4.    Bake in oven until ready, approximately 20 minutes.
5.    As an optional last step sprinkle the parmesan cheese dip with sweet or hot paprika for a touch of color and heat.
Serve with flat bread or crackers.
Reheat as necessary during the party!
Try another great recipe? Check out this Morning Glory Muffin recipe that your family will love!